"Speed to Market" with our 5 step approach!
Extended Business Services provides you with an integrated approach that focuses on clear objectives, allowing you to focus on higher priorities without distraction.
Partnering with EBS is the single most effective way to increase sales, cut costs, improve margins and secure the future of your business. Many of our clients have found a higher ROI by partnering with us as compared to building a program from the ground up. Many times companies are surprised by the cost involved (technology, software, training, management) to start an in-house program. In-house programs often fail because companies do not have the expertise or resources to plan appropriately or fail to keep efforts focused because of their other day-to-day responsibilities.
Step 1: Profiling Phase (1 day)
This step consists of one to two conference calls where you will present a full company overview, explaining in detail your strategic differentiators, and highlighting any key product, service or new development that EBS will be driving to the market. Through this phase the proposal, concept and collateral will emerge.
Step 2: Action Planning Phase (1-3 days)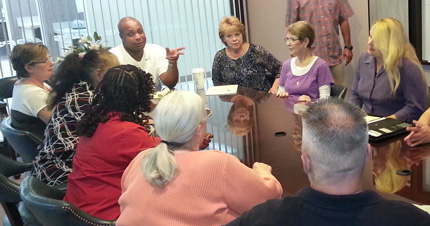 From start to finish, we create a step-by-step plan to bring your new project to launch. Through collaboration with you and your key team members the action plan will define the framework used throughout the remaining phases. The action plan will consist of short and long-term objectives and the resources needed to launch a successful project. This is the "Who, What and When" phase.
Step 3: Implementation Phase (on-going)
All of the details have been worked out, training has been conducted, system configuration tasks have been completed…it's time to implement your new project action plan! This is the on-going phase of the relationship and will be executed on a regular weekly basis. You will be assigned a dedicated project manager as your point of contact before, during and after the implementation phase. Your project manager will have a good understanding of your business and objectives and will oversee the activities of your new launch. Our team of business development agents facilitate the day-to-day call center activities providing you with targeted expertise to create sales, revenue, profitability and strength with enormous dedication and passion to exceed your expectations.
Step 4: Measure & Analyze Phase (on-going)
Throughout the implementation phase we will collect valuable business intelligence about the effectiveness of the program and gain feedback from your prospects, customers and industry. The power of this information is enormous. Our proprietary call center (CRM) software records your critical data capture points and provides you with key management reporting in various formats (.xls, .csv, .pdf, etc). This information will be reviewed by you and your project manager on a regular basis.
Step 5: Performance & Control Phase (on-going)
Dotting the i's and crossing the t's….that's what the performance and control phase is all about. You and your project manager will compare progress reports to the actual project plan to ensure that everything is on track. Through rigorous follow-up and monitoring we may uncover areas needing adjustment or new potential areas of focus. Your project manager will work closely with you to further improve the process and make recommendations for future projects and strategies.
The top 10 reasons why you should choose Extended Business Services:
1. We do our homework.
Telemarketing is an extremely effective marketing tool if it's done right. The key to the process is our complete understanding of your products, services, and marketing strategies. We do our homework!
2. We have excellent aim.
We call only the people most likely to need and/or want what you offer. We can review your existing customer list, find common denominators, and analyze the abilities of your sales staff, too.
3. We're fast.
You only have 15 to 20 seconds to create interest or generate curiosity while cold calling on the phone. Years of experience have made our scripted opening statements highly focused, specific, and engaging
4. We're great writers.
We craft a focused and engaging opening statement, which then leads to bullet point scripting. This allows our call center specialists to tailor the remaining presentation around the needs of the potential buyer.
5. We've got experience.
Our call center specialists are highly trained in techniques designed to get them past gatekeepers. They are polite, persistent and persuasive, but not pushy. Except for the opening statements, they don't read from scripts. Conversations are spontaneous and engaging, and our database management systems can provide automated follow-ups, as needed, for thorough coverage.
6. We're persistent.
While some products or services may change over time, your company name will not. We encourage you to keep your name in front of customers; slow but steady wins the race.
7. We're upbeat.
It isn't what you say, but how you say it that creates a positive image. Our call center specialists are trained to concentrate on features, benefits, and the needs of the buyer so that we can open the door to your full in-house sales presentation.
8. We're unique.
Extended Business Services knows that no two marketing campaigns are ever exactly alike. We create custom telephone marketing campaigns, pre-qualify potential prospects, and pre-confirm your sales appointments. All you need to do is close the sale. It really is that simple!
9. We offer no risk trial campaigns.
Don't get locked into contracts or long term agreements without knowing what you're getting for your money. We are happy to run a pilot program to make sure we are a good fit and that you are comfortable moving forward with us as your select partner.
10. We GUARANTEE our services – we will replace or refund without a hassle!
We couldn't be more confident in our management team, our agents, our quality processes, our detailed training programs and our deep passion for exceeding expectations, that is why we are the ONLY company in the industry to truly offer a no hassle guarantee to our clients!