Our Philosophy:
Multi-Touch
Say it clearly, and say it frequently!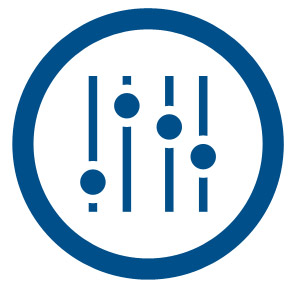 Multi-Channel
Say it here, post it there, display it everywhere!
Nurturing
Don't throw away warm leads!
---
A multi-touch campaign utilizes multiple methods of reaching out to existing customers and/or prospective customers in order to maximize the effectiveness of a campaign and increase overall awareness of your products, services and your differentiators. Some of the most popular and effective strategies include combining direct mailing, emailing, social media, webinars, trade shows, events and teleservices efforts.Based on independent research, surveys show that it takes up to 5 touches to compel your audience enough to start meaningful correspondence to nurture target market, so you will need to consider this level of commitment and execute with continuity and consistency.
There are no silver bullets ~ No single tactic is 100% effective. By combining a disciplined multi-touch program using a consistent message and design you will extend your reach and gather critical business intelligence, so you can continue to nurture your targets and respond to your contacts based on the feedback you receive, with the goal of converting them into long-term relationships.
It's not as complicated as you think! An effective multi-touch program can be simple to deploy if you follow these few steps, here are a few tips and some of our first-hand knowledge to get you ready to launch:
CONCEPT: Think outside the box. Find yourself a good partner and get together for a productive brainstorming session. The result of these meetings will help you identify the best ways to connect with your targets and produce more effective campaigns utilizing interesting ideas and new messaging to help increase your UVP – Unique Value Proposition.
ANALYZE: The competition….You need to know what you are up against.
BUDGET: Determine your budget beforehand. Approach your projects in stages as money and time allows.
PRIORITIZING: Select your targets. You'll need to determine (a.) Who the real decision-makers are and where they are located (b.) What type of message they are likely to respond to: product samples, coupons, free evaluations, bonuses, benefits etc. (c.) What motivates them quality, speed, price, ego, style… (d.) Where they get information about your type of product / service (emails, trade magazines, internet sites, conferences…)
PLANNING: Continuity and Consistency are critical. Develop the appropriate strategy and clearly outline each step in the process. Combining all of these tactics together with a common "look and feel" creates brand harmony and it should be felt within every interaction. Remember, marketing activities should be flexible to allow for adjustment.
ACTION: Nurturing is a process, not a one-time event. You've got to stay in front of your targets through repeated attempts –direct mail, webinars, email marketing, cold calling, press releases, meetings, broadcasts, social media posts or a combination of several of these tactics. You need meaningful, persuasive messaging that is consistent and harmonized.
FOLLOW UP: What is your response procedure? You need to be sure that everyone is aware of the program, knows where to look for activity and knows what to do with potential leads or inquiries are generated so they respond in a timely manner while the target's interest level is at its peak.
DON'T GIVE UP TOO EARLY: The secret is to stay on top of the target's mind and continue to educate them. Response rates increase with each subsequent touch. Make it easy for an interested target to contact you, provide several ways to respond– call, visit our website, mail a response card, call your company, send an email etc…let them choose what they prefer.
At Extended Business Services we assemble customized multi-touch programs that help you get in touch with your targets through the right mix of online, call center and printed solutions. We incorporate from two to seven touches with each campaign and develop cost-effective phases to help you launch quickly and start building your pipeline in less than two weeks of set up. That's right…..less than two weeks to launch!